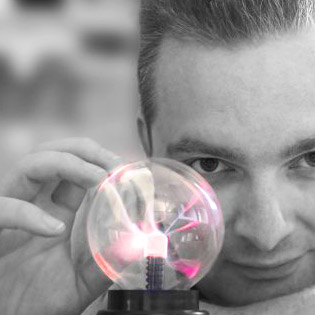 Pay no attention to the man behind the curtain...
While my work speaks for itself, I guess you may be interested to know a little more about me. Otherwise, you probably wouldn't have clicked on the "about me" link...
A long time ago, in a galaxy far far away...
So, this whole web thing? I kind of stumbled on to it in 1997. I've been a professional marketer and communicator for 20 years, and a photography buff for years before that. One day, I was asked, "Hey. Can you build a website?" I, of course, immediately said, "Sure." And then panicked once the boss rounded the corner.
Turns out, web design is really pretty cool. For you psychology nuts, it's a great exercise for both the left side (logical) and right side (creative) of the brain. A web designer gets to plan strategically, engage in marketing and public relations, plan site logistics, and write code. A little bit of everything to keep the brain constantly engaged.
Makes you wanna be a web designer, doesn't it? Go for it. (Right after you hire me and I finish building your project.)
Whaddayaknow, Joe?
Here it is, 15 years later, and I've built dozens of sites- big and small, private sector and public sector, doctors' offices to comic book stores. (Ask me, some time, about some of my more 'interesting' projects.)
Design has changed considerably in the last decade. It used to be that if you had a clean page with some imagery, a good amount of text, and a couple of online forms, you were a visionary.
It's all about the interaction, now. Web users expect to *do* things online- access data, purchase product, fill out forms. And they want to do it wherever they happen to be- phone, tablet, desktop. A site that simply informs no longer cuts it.
Whether it's mobile web, e-commerce, or data gathering, collation, and display, I've got you covered.
Oooo, oooo, pick me! Pick me!
Here's the gig. I'm a freelance designer. This has some distinct advantages and disadvantages when compared to a design company.
The first is price. The reality is that I don't need to support some huge infrastructure- buildings, employees, benefits- which means that I can offer you the same level of expertise at a fraction of the cost.
Additionally, because I only work with a few clients at a time, my experience with you will be very personal. I'm your sales person, your designer, your programmer, and your marketer. We'll get to know each other's kids n' stuff.
Now, on the downside, since I'm a freelancer, I'm more susceptible to the whims of life. Means when I'm sick, or on vacation, there isn't a 'B' team to work on your project. Also, as a part-time gig, I'm less able to drop everything and meet with you, and most of the work on your site will happen outside the 9a -5p day.
In short, if you want a high quality product at an excellent price, and have the flexibility to handle the schedule of a freelancer, I'm your guy. If you need more structure and 24/7 immediate support, you'd be better off with a larger, more structured firm, like my good pals over at Noble Studios, for example. (Don't worry, you won't hurt my feelings if you choose Noble. But please mention I sent you. It helps me convince them to pick up the lunch tab.)
You had me at "Hello"
Excellent. Time for us to chat.
admin@silverdesert.com or 775.250.2942